Bright, and frequently colorful and sparkly, lamps are jewelry for rooms.  Here are a few favorites (my own and others').
I love the Asian influence in both those pieces. This blue and white ginger jar style base decorated my desk at a previous job - sadly, it didn't belong to me.  Not visible here are a beautiful carved wood base and antique brass finial. The green lamp is a vase a friend turned into a lamp - it's gorgeous.  Turning small sculptures, vases, or decorative jars into lamps is a wonderful way to bring unique lighting into your home. 
Neutral Naturals: I was quite taken with this lamp from Clayton Gray Home - it's meant to evoke the sea, but it also seems a bit floral (tulip vine blooms come to mind). The next lamp with a "bone" base would be great paired with silver.  Ralph Lauren Home's gold and discus lamp evokes Greece or Africa.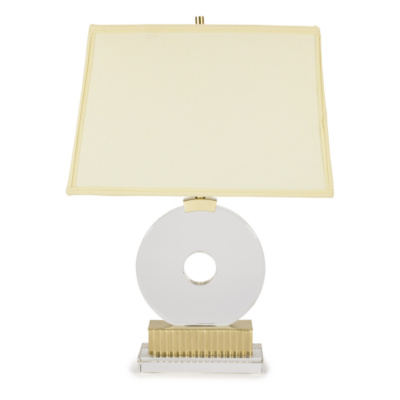 Blue: This turquoise lamp is a bit a la Draper, or I could see Kelly Wearstler using it in one of her larger than life, pattern intense designs. The peacock pattern lamp reminds me of a pair of beautiful Indian earrings, and I think it would look fantastic with a black silk shade.
Preppy:  I love the navy and white lamp here especially - it has a nautical flair, or could get quite dressed up with the right accessories.  The ribbon trim theme carries over into a variety of colors at PB Teen.  Last picture:  a sophisticated chocolate and cream version. 

Animals:  Birds are a common choice for lamps - this macaw is great for a formal living room, and the acrylic would be precious in a child's room.  My favorite is the horse, and don't overlook the wonderful shade. 

Neutrals:  1, carsongrayhome.com. 2, jaysonhomeandgarden.com. 3, ralphlaurenhome.com.
Blue:  1, carsongrayhome.com. 2, beelinehome.com.
Preppy:  1 and 2, pbteen.com. 3, tonichome.com
Animals:  1, wisteria.com. 2, revivalgardenandhome.com. 3, tonichome.com.